Milan, Italy
Number of Tour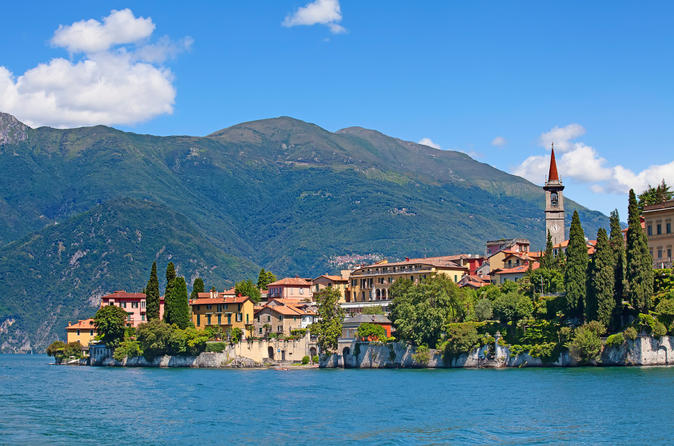 Milan, Italy
Leave central Milan by air-conditioned coach, and travel away from the city toward the snowcapped Italian Alps and Swiss border. Relax on the scenic journey and get ready for your 2-hour cruise!

Board on the boat to cruise past luxury real estate along the shoreline. You quickly realize how Lake Como has become one of Italy's most exclusive residential areas. Plush villas belonging to the likes of Sir Richard Branson and George Clooney are common sights around the glamorous lake.

Hear about the mansion-size villas and their celebrity owners from your onboard guide, and look out for some of Como's historical landmarks, too. After returning to dry land, explore the beautiful town of Bellagio, the 'pearl of Lake Como'. Make the most of your free time here to get to know the town. For lunch, stop at one of Bellagio's cafes (own expense).

After your break, leave the lakeside area and travel over the border to Lugano, aka the Monte Carlo of Switzerland. Located on a lake of the same name, Lugano is an Italian-speaking Swiss town and favorite vacation spot for affluent Europeans. How you spend your time in the chic city is up to you. Pay homage to Lugano's cultural scene with a visit to Chiesa di Santa Maria degli Angioli to see Bernardino Luini's Renaissance masterpiece titled Passion and Crucifixion; hit the downtown shops and scout out Swiss chocolate, fine luxury goods and clothes; or simply soak up the lakeside sights.

Meet back up with your guide in the late afternoon, and finish your day trip by traveling back to the start point in central Milan.
Login to add this as favourite or to your wishlist.
Sorry, Itinerary not available.
Angelique H
2018-07-09
Katarina was our tour guide for this amazing day. She was so fun and so knowledgeable. We learned so much and loved spending the day with her. Lugano was absolutely beautiful. We loved this tour so much. Highly recommend.
---
agnes
2018-06-20
ANOTHER MUST-SEE!
RELAXING CRUISE ON LAKE COMO......
---
Mark C
2018-06-10
We had a wonderful tour guide, Myriam who cheerfully showed us picture opportunities and gave great descriptions of the various sights. She was a lot of fun to to be with. Even when we got caught in a downpour with hail at the end of the day on the way to the bus, she made sure we were all safe and comfortable and joked to make us laugh at the situation. Overall, she helped us have a great experience!
---
Rahul s
2018-05-28
Luigi and Fabresio were brilliant.wonderful places to see.
---
ROSARIO C
2018-04-12
The trip was amazingly the best in my Italy tour. I enjoyed the tour to Lake Lugano, Bellagio and Lake Como. If I ever I have to return to Italy, I would love to do it again. Our tour guide Eddie was superb. Thumbs up.
---
Michael M
2018-03-19
Such a beautiful area. Spent the right amount of time at each stop.
---
Lisa D
2018-03-08
Fabulous! Highly recommend!
---
MelindaD
2018-01-14
it was great... everything you want to see is captured. i loved every step we made in this journey.
---
LINFREEMAN
2018-01-14
We really enjoyed this tour. It was relaxing, but somehow we saw and learned a lot! Had some great shopping opportunities and the guides were very good.
---
Agnieszka S
---
marnisnutrition
2017-11-11
This tour was great. Everything from the logistics to the agenda to the tour guide -- all top notch. Highly recommend.
---
Janet
2017-10-24
Amazing views! We had 2 guides, Valentina and Simone, who entertained and led us through the day. We were in Valentinas group and she provided great information even during the public ferry portion of the day. This is along day but worth it! Valentina recommended a silk shop in Bellagio where I was able to purchase 2 scarves and a mens tie for less than 90 euro. There was time to buy chocolate in Lugano after we visited the historic church and had a coffee.
---
valeriya_794
2017-10-23
Everything was awesome! Thanks!
---
twinlakesgroup
2017-10-23
We are so happy we took this tour! Our tour guide Sylva is pleasant and informative! The sights are beautiful and it was so relaxing to be able to ride the bus and ferry and not have to drive! We didn't feel rushed; plenty of time to eat and shop between seeing the sights. We highly recommend this!
---
Rosalie B
2017-10-21
Loved, loved, loved this tour. Our tour guide Elisa was amazing. The trip on Lake Como, lunch at Bellagio and then to Switzerland was one of our best days. Highly recommend this tour to anyone.
---
Maylene B
2017-10-21
This tour was great! Valentina and Simone are the best!! Don't miss this tour. Lake Como is amazing !
---
Sengiyumva L
2017-10-19
I was a blast !! : The money was worth it...
---
JoEllen C
2017-10-15
The trip was well organized. The guide Aliice was gracious and knowledgeable. It was very enjoyable.
---
Robin T
2017-10-11
The tour was excellent. We had a beautiful, sunny day. The tour guides were excellent with their communication and provided information during the entire excursion. The tour was organized and on time, so we didn't feel rushed at all. We had plenty of time to shop, eat and explore. The boat ride was excellent and provided great views for picture-taking. Lugano was fun. The ride to Lugano was just as interesting as Lugano itself. We enjoyed chocolate from Switzerland--wish I would have bought more.
---
Gregory E
2017-10-11
Very professional , informative and relaxing . A highlight of our trip . Avoid the other company... this is the better by far one
---
Lyubomira A
2017-10-09
Definitely worth the money! Would recommend it anytime.
---
Alex D
2017-10-05
This tour was amazing! The tour guide Laura was absolutely fantastic...one of the best tour guides I've ever had in the past decade of visiting various countries. She was attentive, knowledgeable, gave great advice, had an amazing sense of humour and had a perfect balance of organization along with a leisurely attitude. Lugano was amazing, very relaxed and sophisticated. Very scenic with the water. Bellagio was really spectacular as well. Great food and shops with narrow paths. The boat ride was lengthy and the guide did a great job explaining highlights on the boat of celebrity villas and other historical notes. Great day trip, very smooth and enjoyable!
---
Yvonne F
2017-10-02
well organized tour very well explained in English. Tour leaders fantastic if I remember well Laura and Eliza. Pink Floyd group . Food at the restaurant recommended by tour leader in Bellaghy very good. Thanks
---
Courtney H
2017-10-02
We loved it! It was absolutely beautiful. A great tour with lots of free time. The tour guides were fantastic. Would definitely recommend to anyone.
---
Inclusions
Transport by air-conditioned coach

Professional guide

Headsets, if needed

Lake Como cruise
Exclusions
Gratuities (optional)

Hotel pickup and drop-off

Food and drinks
Additional Info
Confirmation will be received at time of booking

Most guests will not be required to have a Visa to enter Switzerland; a passport will be sufficient to enter the Country. Please check this website (https://goo.gl/uKUFA5) for more information, and to determine if you may need a Visa (choose your country by selecting the first letter i.e "U" for United States.

A moderate amount of walking is involved

Due to uneven surfaces, this tour is not recommended for those with walking disabilities or using a wheelchair

Entrance into religious sites requires a strict dress code. Knees and shoulders MUST be covered for both men and women. Tour operator cannot be held responsible for refused entry due to improper dress

Photography is generally permitted throughout the tour, although it is restricted in some churches

Some sites visited lack shade and can be hot under direct sunlight. It's recommended to bringing a hat, sunscreen and a bottle of water in warm weather

We are also unable to accommodate strollers or baby carriages on our group tours
Voucher info
You can present either a paper or an electronic voucher for this activity.
Return details
Concludes at original departure point
Tour options
Informative, friendly and professional guide, Likely to Sell Out, Perfect introduction for first-time visitors
Sorry, no videos available.
Change your currency
Starting from :
EUR
101
LOW PRICE GUARANTEE
Book Now to Explore
Select Date:
Number of travellers:
Number of Adult
Age ( 15 To 99)