Las Vegas, Nevada
Number of Tour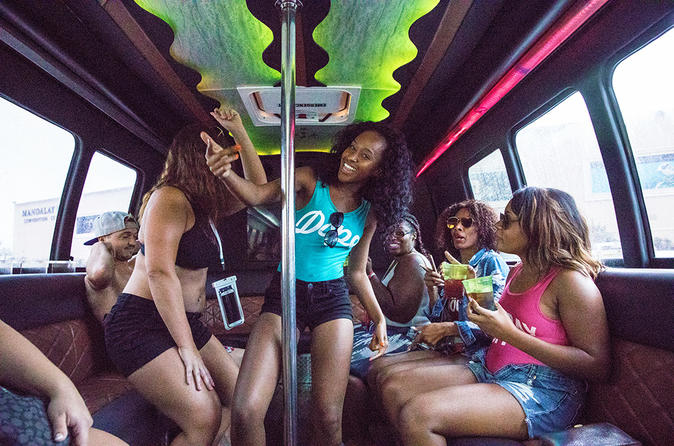 Las Vegas, Nevada
Escape the heat and party like a rock star at some of Sin City's hottest pool parties. Visit two A-list pool parties in Las Vegas and enjoy a day of fun under the sun!
Las Vegas hosts some of the wildest pool parties in the world, and the Las Vegas Pool Party Tour is the only way to party like a true VIP. Your VIP host will take you between pools by deluxe limousine party bus, complete with a bartender on board. Enjoy unlimited summer drinks such as margaritas, daiquiris and more while on board.
When you arrive at the parties, don't worry about cover charges or waiting in lines – on this tour, you'll be treated like a VIP!
After your pool party adventure, enjoy a tour of the Las Vegas Strip and stop at the famous Las Vegas sign for photo opportunities!
Pool parties you may visit include::
Pools at MGM Resorts
Pools at the Hard Rock Hotel and Casino
Tao Beach at the Venetian Resort Hotel Casino
Please note that pools are subject to change without notice
Login to add this as favourite or to your wishlist.
Sorry, Itinerary not available.
Michael J
2017-03-15
fantastic time on the bus, with free drinks, and at the pools. Nice selection of pools.
---
Alexa Z
2016-06-26
This tour was amazing!
---
Alonso P
2014-06-16
We took the party bus for wife's bday last week and it was awseome. Amanda was our host and took good care of us. We had a blast on the bus especially on the striper pole lol. At saphire I had let Amanda know we were intrested in a cabana and she made it happen for $100 minimum thanks again amanda
---
Linsey N
2014-06-02
The tour was awesome! I would do it again next time I go back, so worth it!
---
manh p
2013-12-12
Great tour, Host are nice and friendly ,we would love to do it next Time when we back to Vegas
---
ricardo m
2013-12-11
great and unforgateble donna our host very nice nice.... my crew were sorprised whith the quality on what we pay for it and what we recive ... great value tour.. a will repeat and try the other tour of you--- sorry for my english!!!
regards!!
---
VB Player2
2013-09-23
A fantastic way to experience 2 of Las Vegas' great pool parties without having to worrying about driving, cover charges, etc. Our Bachelor Party of 6 guys had a fantastic time during this experience - both at the pool parties and on the bus. Our Hostess, Vanessa, was fantastic - she kept everyone's energy level up, had a fresh drink in our hands before the old one was empty and made sure everyone had fun. A truly top notch company - from the moment they texted me in the morning to go over last minute details to when they dropped us off at the Hard Rock pool. I would highly recommend this tour!
---
Barbara S
2013-09-09
Brilliant brilliant day loved the ceasars pool good start to the day the bus was really good fun great mix of people and palms pool party was fab a great day was had by all and one we shall never forget
---
teacher
2013-07-02
We had a great tour! Ty was an awesome tour guide and bartender! I would highly recommend this tour if you like to party with a group and make friends while you are in Vegas. The limo bus was clean and new- looking with neon lights in the ceiling and a hard wood floor. We drank and listened to party music on the way to the second location. I was sad when the tour was over! The Vegas pools are gorgeous.
---
rose
2012-09-10
the best time ever! great pools and drinks the host was very nice, cant wait to go again!
---
Michael J
2017-03-15
We've done this pool party 4 or 5 times now but the last three times we've gone to the same pools... I wish Rockstar Tours would change up the venues. We won't take this tour anymore. We will find another pool party tour
---
Michael J
2017-03-15
great time on the bus, great hosts and fun pools even though repetitive as last time.
---
Kimberly J
2014-05-12
My group and I had a blast on the Rockstar Pool Party tour! Starting out we booked via Viator, and I was a little worried about blindly doing this tour, but it turned out great!
---
Kari F
2013-06-11
Would recommend to anyone who wants to experience the Vegas pool party.
---
Brittany R
2013-06-11
My one and only complaint is that the start of the reservation was a bit sketchy, we were asked to call a number to confirm our attendance that no one answered or called back for 2 days, had to call Viator directly to sort out, and even then we were given minimal direction. Once things got underway everything went very smoothly, we stopped at Bagatelle and Rehab, both parties were superb...skipped lines and got in quickly without a problem, bus portion was great, host very lively and accommodating. Overall awesome experience, if you are a pool party frequenter and like to reserve cabanas and such, you may feel cheated by the amount of time spent at each location. This tour is best suited for first timers or people who just want a taste of the pool party atmosphere. Great job guys!
---
Kayla
2017-11-26
2nd venue was horrible, there was no music playing at all wasn't worth going
---
Nicholas L
2017-08-01
We were told the tour guide would give us a meet up destination 24 hours in advance. After multiple calls we received our location an hour before the 11am meeting time on Saturday morning. For a moment I thought I was scammed!
First pool party at the Palms was dead. Not too much happening, but it was nice to lounge in the water.
The party bus that took us to the Sapphire pool party was the most fun part of the trip. The music was blasting and our host was a TON of fun while keeping the free and strong drinks flowing. None of us opted for the photo with the Las Vegas sign but we were allowed to stay on the bus and drink.
Anyway, the bus dropped us off at the Sapphire and we were on our own! This party had a little more going on, but there weren't a lot of places to sit unless you shelled out the extra cash for one of the reserved spots.
Basically this bus picks you up from the Palms and liquors you up before the pool party at the Sapphire. We had a lot of fun, but we definitely wouldn't do it again. It was a fun one time thing for a big group.
---
shunrangasamy
2012-08-31
The Liquid pool party location was a bit of a rip of, too expensive and stay to short, Hard Rock pool party better, good fun place to be.
---
Ayesha C
2016-12-04
This tour was not worth the money. Two pools one cannot be called a party as it was dead. The second place where we were rushed to and practically kicked off the party bus was a strip club. Bear in mind the majority of the party were woman. Bad move. Was not impressed. Tour guide was a bore too.
---
contactalmighty
2014-10-17
Dismal. Poor communication.
---
ekdogg
2014-09-15
We felt singled out and it was embarrassing.we arrived we were one of about 10 people there and the only ones on the tour so there was plenty of seating and sun loungers available with shelter and shade from the sun. We were told these are reserved and we had to sit on hot tiles!!!
---
Yenny V
2014-08-02
I could have done this myself and save myself a lot of money. First of all we met at Caesar's Palace and we had to get there ourselves. Where it was free to get in for ladies anyways. Then they took us to the Las Vegas sign and give us some margaritas. Afterwords they took us to sapphire - a strip c
---
Inclusions
Transportation by deluxe limo party bus between pools

Unlimited drinks on board the bus

Cover charges to pool parties

Towels
Exclusions
Additional drinks

Hotel pickup and drop-off

Gratuities (optional)
Additional Info
Confirmation will be received at time of booking

Minimum age is 21 years

All passengers must have valid photo ID

Appropriate swimwear is required, you may not wear shorts or jeans in the pools

Towels are provided at the individual pools
Voucher info
You can present either a paper or an electronic voucher for this activity.
Return details
Tour options
All entrance fees included
Sorry, no videos available.
Change your currency
Starting from :
USD
59.99
LOW PRICE GUARANTEE